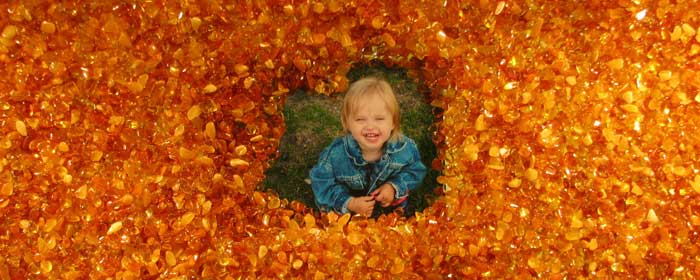 Sales racer: Teething necklaces of natural amber
Dear wholesaler,
Teething necklaces of natural amber are real turnover racer! Thousands of monthly sold units testify.
Now with new safety standard: with new lock and thread according!!! according the requirements of the German factory inspectorate.
Today teething necklaces belong to the standard of every child and baby outfitter.
Natural amber teething necklaces help children during the period of teething!" so the experiences of many midwifes and mothers. And who could know better?
The reason is that mothers get back to the dormant forces in natural products and don't look for a salvation in only allopathic medicine.
Because we as manufacturer supply wholesalers and mail order systems directly, our customers still have guaranteed appreciable profit margins!
Purchasing directly from the source ensures your profit!
Description:
- Genuine Baltic natural amber (guarantee of our German company!)
- Length: approx. 34 cm
- Forms: Baroque-around, flat baroque, olive, natural French/sandblasted
- Colours: citrine, bright -, middle - and darkness cognac, multicolored
- Lock: New security fastener of synthetic material (no allergic reaction possibly!)
- Single-knotted
- Security-tested
Suitable bracelets can be combined with the teething necklaces.
Please also notice our mother's child's sets!
We would be pleased to hear from you and remain
Advantages for You
:
Directly from manufacturer
A wide range in forms and colors for baby necklaces, baby bracelets, necklaces for mothers and other articles in this field
Guarantee for all products made of natural Baltic amber
Best price range
Qualified consultation
Small and large series
Ask for your own design
Full assortment of natural amber parts and amber jewellery
Quality control
Delivery just in time
Flexibility because of direct source to rough amber material
Now, take a look on our pages and for further information please don't
hesitate contacting us.
Kind regards,
Your Natural-amber-Schumann-Team
Baltic amber
Gold of the North

Name: english: amber (the name is derived from the old Arabic word "anbar"), french: ambre, deutsch: Bernstein, danish: rav, greek: elektron (if you rub amber on a cloth it becomes charged with negative electricity/ that`s the origin of the word electricity).

Fossil resin of coniferous trees (plinus succinifera) during Eocene/ 55 – 40 million years.

Origin: Here Baltic States/ main region: Jantarny (Russia) /before 1945 called Palmnicken/ East Prussia.

Exploitation: Opencast mining/ up to 900t per year/ only a small quantity can be used for jewelry.

Components: 80% carbon, approx. 10% hydrogen, ca 10% oxygen, small quantity of sulfur.

Hardness: 2 - 2.5 Moh`s scale.

Specific gravity: 1.05 – 1.10g/cm3.

Colors: all varieties of cognac and golden yellow from opaque to transparent, ivory-colored, brown, green (moss), black (contains bark of trees or floor coverings of the forest); rare: blue and cherry (The reason of opaque color are up to 900 000 small bubbles per square millimeter – when the sun heated amber the surface of the stone became weak and oxygen could leave – this process is called natural clearing. Sun spangles are caused by different temperatures.

Similar to natural amber: pressed amber (small pieces will be heated up to 320o C and pressed from four sides to plates or cylinders/ in Germany and Austria it is called " Echt-Bernstein" – real amber- / reconstructed amber – plastics/ glass imitations

Speciality: When the resin was running down the tree small insects were incorporated airsealed. So we have a focused look at a part of flora and fauna 50 million year ago. The bodies of insects are hollow, what you see is only the skin.

Tests for authenticity: amber is swimming in a strong salt water or in Cola – plastic will remain on the bottom. Burning: amber has an aromatic resin taste, plastic is stinking.

Processing: mostly manual work; grinding of weather-beaten crust (oxidation) – shaping - polishing - drilling. Some tumbling and vibrator machines.

Jewelry: Baltic amber is used as gem stone since the Mesolithic Period. In the Baltic region, the ancient Rome and the ancient Greece( Homer) amber was used for jewellery, for medicine and as a stone for spiritual healing. The Roman poet Plinius was angry about the price of amber " a small carved statue of amber is more expensive than a slave".

Articles made of amber: tumbled stones, hand grinded lumps , necklaces (round –baroque round-olive-cylinder-disk beads, small and big splinter), bracelets, pendants, Christian and Moslem rosaries, carvings, key pendants, letter opener etc.

Astrological aspect: stone of twin.

Possible healing effects: sore throat/ if you put amber in water or wine for 1-14 days, the liquid shall be good against stomach-ache/asthma/stytic (so the literature).

Attention: If your amber jewel isn`t shining polish it with toothpaste!
For whom?
Our natural (genuine) Baltic amber - assortment fits to:
- Mineral wholesale and mineral retail trade with natural amber
- Buyer and bulk buyer for children articles and children's jewellery
- Wholesaler of children articles and children commodities
- Shopping headquarters or shopping community
- Children article retail dealer
- Department store with children's articles
- Chemist's shop market and chemist's shop market chains with children articles
- Bulk buyers of children articles
- Sales television broadcasting station
- The shopping transmitters selling articles of jewellery, wellness and for children
- Children jewellery trader
- Jewellery, jewellery trade, jewellery commercial firm and jewellery trader
- Mail-order business and firms, jewellery commercial firm
- Specialized catalogue and catalogues, catalogue assortment
- On-line shops
- Cosmetics manufacturer and trader for raw materials for cosmetics
- Jeweler's wholesale and retail jeweler
- Wellness article manufacturer and retail dealer from wellness articles
- Chemist's shops dealing with children articles
- Esoteric wholesale, esoteric retail dealer
- Gift wholesale and gift retail trade
- Bookseller with expansion need